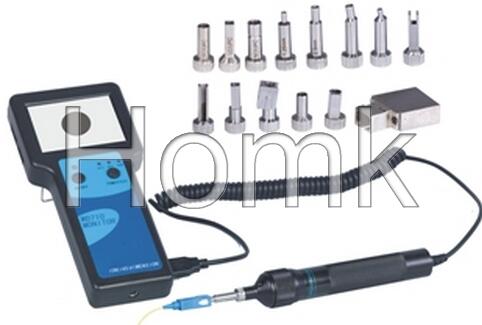 Fiber microscope HK-JJ by magnifying 200~400 time of the objects, you can identity defects and scratches on the endface of connectors. It is your the best choice for endface inspection.
HK-JJ fiber microscope comes along with portable 3.5 inch high resolution LCD monitor,it can work over 8 hours after recharge.There are also all kinds of tips which make Easyget to meet different requirements on inspecting.
---
---
HK-JJ uses aviation electrical plugs instead of USB connector compared to the previous version. The image of easyget will stay clean and stable even in the harsh environment.
---
---
Tips of Easyget
| | | | | | |
| --- | --- | --- | --- | --- | --- |
| | | | | | |
| 2.5mm Universal | 1.25mm Universal | SC/UPC | LC/UPC | FC/UPC | ST/UPC |
| | | | | | |
| 2.5mmAPC Universal | 1.25mmAPC Universal | MU/UPC | SC/APC | LC/APC | E2000/APC |
Inspection of various products
4 All Connector Inspection including MT
HK-JJ has equipped kinds of tips that is able to inspect connector, transceivers modules (SFP, QSFP) and optical components(TOSA, ROSA ). We have designed new MT adaptors that is able to inspect MPO and MTP products such as MPO, MTP connectors in adaptors, 40G, 100G modules and so on.HK-JJ is suitable for maintaining high density data center of next generation.
3 New Data Acquisition Card and Software
The new acquisition card is compatible for more operation system and has higher image quality. The image capture software has more functions such as auto brightness, auto analysis (optional).HK-JJ is able to connect to desktop monitor as well (optional conversion cable needed).
2 Stable and Durable Connection
1 Longer Life, Better Image Quality
We have improved the structure of fiber microscope HK-JJ and provide longer life term. The whole microscope has a sealed structure that will keep the optical component clean even in harsh environment.
Item

Parameters

Magnification

400X or 200X

Output Format

PAL

Power Consumption

3W

Portable Monitor

3.5" TFT

Operation Temperature

-10~50℃

Storage Temperature

-20~50℃

Power Supply

Rechargeable 12V battery or DC IN

Life time after charge

8h

Size

Monitor 205mm*94mm*25mm
Microscope 23mm*160mm
| | | | | | |
| --- | --- | --- | --- | --- | --- |
| Model | Display size of 125um fiber core at 8" monitor | Range of sight at 8" monitor | Display size of 125umfiber core at 3.5" monitor | Range of sight at 3.5" monitor | Resolution |
| | Φ44 mm | 340.9~454.5um | Φ20 mm | 312.5~425um | 2.5um |
| Easyget 400 | Φ58 mm | 258.6~344.8um | Φ26 mm | 240~327um | 1.5um |