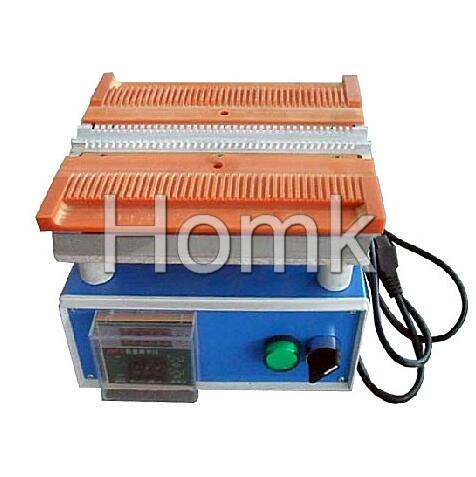 Japanese electronic components control Fiber curing oven HK-80

A The HK-80 using Japanese electronic components control, it's temperature control stability, convenient setting time; And this fiber curing oven is a new design style in the wolrd.
B The oven can curing 140 connectors one time, high efficiencyvery easy to operate.
C This machine is free to set temperature and time. For more, temperature automatic adjustment, controllable 0 ~ 300degree, control precision 1 degree, heating time also can be adjustable;
D The HK-80 adopts horizontal curing mode.
| | | |
| --- | --- | --- |
| 1 | Technical parameters | Specification |
| 2 | Heating Temperature | 40-200degrees |
| 3 | Dimensions | 400*320*300mm |
| 4 | Weight | 8.0kgs |
| 5 | Input Voltage | 100-120VAC/200-240VAC |
| 6 | Power Consumption | 800W |
| 7 | Automatic | Yes |
| 8 | Making Method of Parison | PLD |
| 9 | Type | Full-Electric Controlled |
| 10 | Warm up Time(Apporox) | About 15min |
| 11 | Type of production | 1.25mm, 2.5mm, SC/FC/ST/LC/MPO/MTRJ all kinds of connectors |
| 12 | Capacity | 140connectors |
| 13 | Material | Stainless Steel |
| 14 | Outer Case | Baking Paint for Metal |
| 15 | Style | Horizontal |