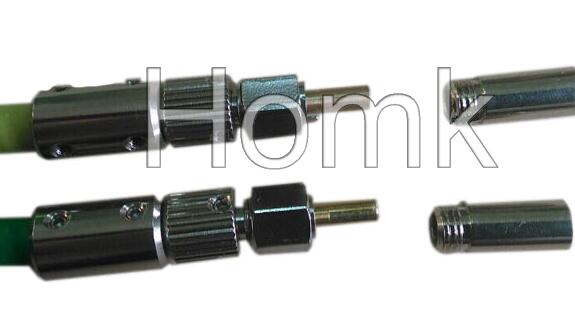 Mitsubishi Laser Fiber Connector

Homk Laser Fiber Spec:


| | |
| --- | --- |
| Brand | HOMK |
| Fiber Type | ST300E,ST400E,ST600E;ST300F,ST400F,ST600F |
| Connector type | FC40 |

1. The Laser fiber description
Precsion polishing big diameter core energy fiber end surface, The FC4.0 connector has high precision with air gap and the protection of sapphire,realize single fiber 300 w ~ 600 w high power laser flexible transmission.

2. The main characteristics
sapphire protect connector,Compatible with D80;high quality stainless steel sheathed tube protective layer;a variety of the big core diameter energy optical fiber specifications be optional:Φ0.2,Φ0.3,Φ0.4,Φ0.6,Φ0.8,Φ1.0

3. The main application
High power laser, the flexible transmission;
Laser welding, cutting,marking.
Atmosphere, spectrum measurement; Infrared temperature measurement;

Our company can service:Japan's Mitsubishi, Miyachi, Han's, NEC,UW ect laser fiber end face maintenance, polishing and connector replacement etc.