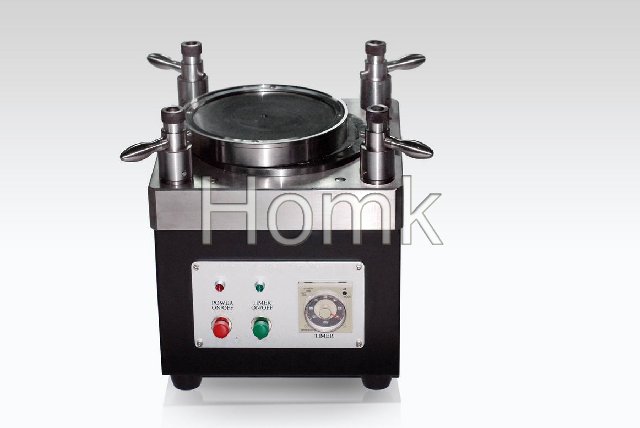 Fiber Polishing machine HK-15F

This HK-15F can process excellent connector end force polishing quality. The polishing machine designed for volume production, high productivity. For more, the poslihing machine can save material and low cost for polishing.

1, Compatibility of other polishing machines when we designed this polishing machine, taken full account of the consumables (abrasive film), Jig & Fixture used currently the most widely used 127mm and corner positioning, compression work. Fixture can be with other manufacturers equipment exchange, and do not make any adjustments.

2, This machine applies to a wide range of equipment, with no need of any external equipment, an area of less stable production. As long as necessary in accordance with the replacement of fixtures, the polishing machine can produce different types of connectors, the polishing machinesuitable for production and scientific research trial orders.

The fiber polisher is versatile and be efficient and fast produced all kinds of standard fiber optic connectors type with dedicated
Fixture: FC / PC FC / APC SC / PC SC / APC ST / PC ST / APC LC / MU MT-RJ 8 deg. Or 0 deg MPO MPX MTP, E2000, D4 etc BD. In addition, the polishing machine is able to Polish SM, MM and PM optical fiber connectors and other specialized types.

Special circumstances, can be customized according to user's request special connector fixture. This polishing machine can be used not only the production of ceramic-core connector, the same can be used for energy-coupled fiber-optic connector, dark fiber and the optical fiber connectors made of glass or plastic and other tiny elements as well and production.

3, It operation simple, convenient to simplify production processes, improve work efficiency. Fixture cleaning, replacement of convenient and quick.

4, The fiber grinder maintenance equipment in the use of easy just to avoid the process of polishing paste and cleaning of the residue to get jig polishing machine platform.

5 Connectors produced by this polishing machine are of low insert loss and low return loss, good interchangeability and good repeatability.
Pressure way

4 coil spring

Insert Loss

0.3 dB (SM)
0.2 dB (MM)

polishing capacity(max)

SC, FC, ST: 20, 48 units LC: 24, 48units

Return Loss

50 dB (PC)
60 dB (APC)

polishing connector type

FC, SC, ST, LC, MU, MTP, MPO, MTRJ and so on

Radius

10~25mm

Motor speed

90rpm rotation, 2rpm revolution

Offset

50 μ M

Dimension

230*230*255mm

Under cut

50nm

Film size

5' '

Repeatability

0.1dB

Weight

24KG

Interchangeability

0.2 dB

Input voltage

100-120VAC, 50/60Hz or 220-240VAC, 50/60Hz

Working Situation Temperature

-10— +40º C

Polishing cycle

2.83mins

Heavy punch

500g or 250g

Polishing chassis diameter

130mm

Polishing time setting

0-3min

Counterweight pressure

2.1~3.6kgf/cm

Time Range

0-300S

Polishing Time

2 min. (quick assembly type)

3-4 min. (standard connectors)

Pressure Range

0~5kg

Precession Speed

1.5rpm