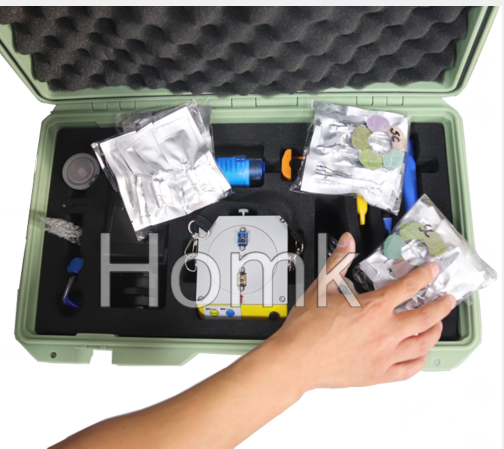 Handheld fiber polishing machine HK-TM

Features:

HK-TM is design for polishing connectors in the field,if need repair small connectors,it is good choose.it included polishing machine,polishing films,fiber tools etc.

Handheld fiber polishing machine Parameter
1. Applicable Connectors: FC, SC, ST, MU, LC, E2000, MPO, MTP, MTRJ UPC or APC and so on,
2. Weight: 2.85Kg
3. Dimensions: 100mm L*120mm W*120mm H
4. Power: 12vDC
5. Polishing Time: 0 - 30 sec. (1 piece timer)
6. Polishing Method: Rotation & revolution
7. Motor speed: 100rpm/rotation
3.3rpm/revolution
8. Power: 15W
9. Polishing capacity: 1-6connectors
10 Voltage: 12VDC
11. Plate size/ Film size: 68mm

Environmental protection, simple design easy to operate.
Pressure way

4 coil spring

Insert Loss

0.3 dB (SM)
0.2 dB (MM)

Polishing capacity(max)

SC, FC, ST, LC: 6 units

Return Loss

50 dB (PC)
60 dB (APC)

Polishing connector type

FC, SC, ST, LC, MU, MTP, MPO, MTRJ and so on

Radius

10~25mm

Motor speeed

100rpm rotation, 3.3rpm revolution

Offset

50 μ M

Dimension

120*130*180mm

Under cut

50nm

Film size

68mm

Repeatability

0.1dB

Weight

2.85kgs

Interchangeability

0.2 dB

Input voltage

12vDC

Working Situation Temperature

-10— +40º C

polishing cycle

30-60s

Heavy punch

500g or 250g

Polishing chassis diameter

80mm

Polishing time setting

0-60s

Counterweight pressure

2.1~3.6kgf/cm

Time Range

0-60S

Polishing Time

2 min. (quick assembly type)

3-4 min. (standard connectors)

Pressure Range

0~3kg

Precession Speed

1rpm